We toured a lovely home last week - a two-story dutch colonial in Glendale. Built in the 1920's on 1/3 of an acre, with a wood-burning fireplace, french doors, hardwood floors and 9 foot ceilings. A partially finished basement, and a large patio & shed in the backyard.
Fast forward to the seller's disclosure: knob & tube wiring (seriously? the house has the original 1920's wiring?) and termites.
No, thank you. As pretty as it is, we have to pass.
I have been thinking at lot about colors and design for the new place (where ever it is). After enojoying our two cranberry courdoroy loveseats for a few years, I'm thinking about retiring them to a cozy den and looking at something more muted for the new living room. Maybe something like this, with silvery blue wall?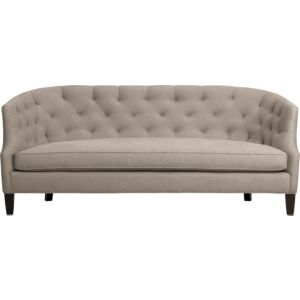 Jess